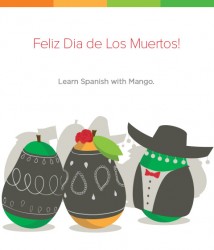 Do you know what foreign language your friends at Regent are learning? Between May 1, 2014 and May 1, 2015, the Regent community studied 37 foreign languages and 15 cultural training courses using the Library's Mango Languages software. The total number of learning sessions was 472, and the total time spent using the software was 88 hours. 27% of all learning sessions were on mobile devices, and the average session length was 11 minutes, which shows that a few dedicated minutes per day is all that is required to make meaningful progress in a foreign language.
Here, by order of learning sessions, are the twenty most popular Mango languages at Regent during the past year:
Rank
Language
Learning Sessions
1
Modern Greek
82
2
Spanish (Latin American)
76
3
French
50
4
Biblical Hebrew
18
5
German
17
6
Korean
16
7
Italian
16*
8
Russian
16*
9
Chinese (Mandarin)
12
10
Czech
11
11
Japanese
9
12
Modern Hebrew
9*
13
Pirate (Arr, Mate!)
9*
14
Vietnamese
7
15
Thai
6
16
Scottish Gaelic
5
17
Spanish (Castilian)
5*
18
Farsi (Persian)
 5*
19
Dutch
4
20
Icelandic
4*
*In cases of equal number of learning sessions, rank is determined by total minutes.
Mango offers an amazing array of language and cultural products available 24/7 to current Regent users and alumni, including 66 foreign languages, 17 ESL courses, and special cultural training courses, such as Arab etiquette, Chinese feng shui, and the language of romance in Spanish and French-speaking countries. For advanced learners, Mango even has full-length foreign films with subtitles and special tools for language learners.
Whether you are planning a mission trip to Indonesia, getting in touch with your Norwegian roots, or have always wanted to read the Bible in the original Hebrew and Greek, Mango Languages can help you achieve your goals. Language study is a crucial component for understanding another culture. While complete fluency in a language requires years of study, even basic proficiency will make you feel more at ease when abroad and impress your overseas contacts with your good manners in taking the time to learn some of their language. It will also make your time in a foreign country much more rewarding. As Ralph Waldo Emerson wrote, "No man should travel until he has learned the language of the country he visits. Otherwise he voluntarily makes himself a great baby, so helpless and so ridiculous."
To begin your journey with Mango, click here.