by Melody Diehl, Divinity Librarian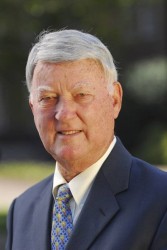 On Monday, December 1, the School of Divinity will host a Festschrift presentation to celebrate Dr. Vinson Synan's 80th birthday and to honor his contributions to Pentecostal studies. Dr. Synan is one of the most significant scholars in the Pentecostal Renewal Movement. Over nearly fifty years of scholarship, he has authored more than fifteen books and taught at several colleges and universities. Dr. Synan has long been a part of Regent University, where he served as Dean of the School of Divinity and continues to teach courses as Dean Emeritus . Visit his Amazon author page for a complete listing of his books.
The event will take place from 4:00 pm to 5:30 pm in the Library auditorium. We invite you to join us for this celebration as Drs. James Henderson and David Moore present a book written in Dr. Synan's honor. To complement the event, Ellen Cox has created a display of books and photos from Dr. Synan's distinguished career. It is located on the first floor to the right of the reference desk.
For more information, contact Kathy Schultz at 757-352-4419 or kschultz@regent.edu.