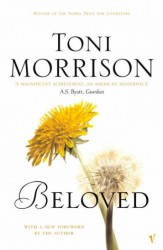 Widely regarded as Toni Morrison's finest work, Beloved tells the story of a runaway slave and her daughter. Sethe, the novel's protagonist, was born a slave and escaped to Ohio. Eighteen years later, she is still not free from memories of Sweet Home, the Kentucky farm where she witnessed so many cruelties.
Inspired by historical events the author discovered in an old newspaper article, Beloved has been called the defining novel of American slavery, the one by which all future treatments of the subject will be measured.
On Thursday, February 25 at noon, Dr. Connie Calloway will lead a discussion of Beloved in the Library Conference room. Distance students and faculty are invited to join in via Google Hangouts.
For information about future discussions in the Library, see the Book Club webpage.