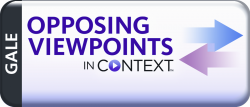 Opposing Viewpoints in Context is the premier comparative database for critical national and global issues. This cross-curricular research tool supports all disciplines at Regent, including the sciences, social sciences, religion, and humanities. The database provides researchers with assurance that that they have considered their topic and thesis from multiple points of view.
Some of the content in Opposing Viewpoints in Context includes:
More than 20,100 pro/con viewpoints.
More than 19,200 reference articles, including topic overviews.
Interactive maps show statistical trends in a readily understandable way.
Opposing Viewpoints also provides citation tools for all documentation styles used at Regent and provides seamless integration with Google Drive, allowing users to save articles directly to their accounts. Click here to begin using the database.
As always, the Library welcomes comments and suggestions about our electronic resources. Please use our evaluation form to let us know what you think of Opposing Viewpoints.