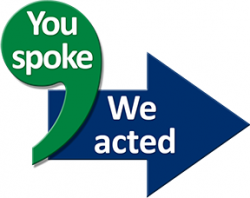 by Sandra Yaegle, Head of Public Service
In the Library's 2015 Customer Satisfaction Survey, we received several comments indicating a need for professional reference librarians whenever the Library is open. Here are two examples:
"It would be nice if a reference Librarian were available as long as the library is open."
"I'm very satisfied, I just wish that more reference librarians were available whenever the Library is open."
Regent University librarians are dedicated to serving you. Although we would like to be able to have a research librarian in the building whenever we are open, this is currently not an option for us. However, we have suggestions for you to consider.
Our access services staff, including student assistants, who work at the circulation desk whenever the library is open, have been trained to answer basic reference questions. If they are unable to answer your question, they will give you the contact information for the librarian subject-specialist best able to help you.
You also have 24-7 access to our automated service called Ask-a-Librarian. Simply type your question into the search field. If your question has been answered before and incorporated into our knowledge base of frequently asked questions, you will be directed to an answer. If your question has not been asked yet, you will be able to submit your question. The research librarians monitor LibAnswers not only on weekdays, but on weekends as well and respond to all inquiries within 24 hours.