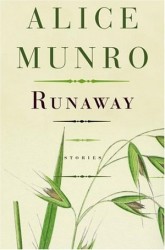 Canadian author Alice Munro, winner of the 2013 Nobel Prize in Literature, has been called a twentieth century Jane Austen. Like Austen, Munro creates works to be read and re-read but which also generously reward first-time readers.
On Thursday, December 11, the Library Book Club will discuss three stories from Munro's 2004 collection, Runaway: "Chance," "Soon," and "Silence." The stories form a triptych and cover 40 years in the life of Juliet, a Classics scholar. Like an artist who communicates the essential qualities of a subject using only a pencil, Munro, in barely 100 pages, gives the reader a complete portrait of her character from age 21 through 60 using only a few critical episodes from her life.
Dr. Susannah Clements will lead the discussion, which will take place from 12:00 to 1:00 in the Library Conference Room. The Library has three copies of the book, and prices for used copies start at 1¢ on Amazon!
Distance students and faculty welcome!
Distance students and faculty can join the discussion live via Google Hangouts. Here is our permanent link for all Book Club events:
https://plus.google.com/hangouts/_/event/c0lnc83s5ok7tecuqdcnjg0mcno?authuser=0&eid=100028809078157626561&hl=en
The first time you click on the link, Google will prompt you to install the Hangouts plug-in. Once that's done, the same link will take you to the Book Club discussion each month.
For more information about the Library Book Club and future events, visit our webpage or contact Harold Henkel at harohen@regent.edu.